It always amuses me that there are many examples of large companies falling from grace shortly after they put their company logo on a sports stadium.  Many of these companies embraced bankruptcy shortly thereafter:
Enron Field (now Minute Maid Park) – 1999 – Astros (MLB)
CMGI Field (now Gillette Stadium) – 2000 – Patriots (NFL)
Air Canada Centre – 1999 – Maple Leafs (NHL)
CitiField – Mets(MLB)
Wachovia Center – 76ers(NBA)/Flyers(NHL)
United Center – Bulls(NBA)/Blackhawks(NHL)
MCI Center (now Verizon Center) – Capitals(NHL)/Wizards(NBA),
National Car Rental Center (now BankAtlantic Center) – 1999-  Florida Panthers (NHL)
PSINet Stadium (now M&T Stadium) – Baltimore Ravens (NFL)
Adelphia Coliseum (now LP Field) – 1999 – Titans(NFL)/Tigers(NCAA)
Trans World Dome (now Edward Jones Dome) – 1995 – Rams (NFL)
Pro Player Stadium/subsidiary of Fruit of the Loom (now SunLife Stadium) – Dolphins(NFL)/Marlins(MLB)
You might consider this just a few cherry-picked examples of many companies that have put their names on stadiums.  I believe that it is an indication of hubris.  These companies either thought they were going to continue to grow and thrive as they have recently or they had so much cash they decided to throw it at non-performing investments such as signs on stadiums.  With the latter, it could just be an indication of mismanagement.
In Niederhoffer's book Practical Speculation, a book I have highly recommended, he compares the performance of companies that have recently put their names on stadiums versus the broader barket: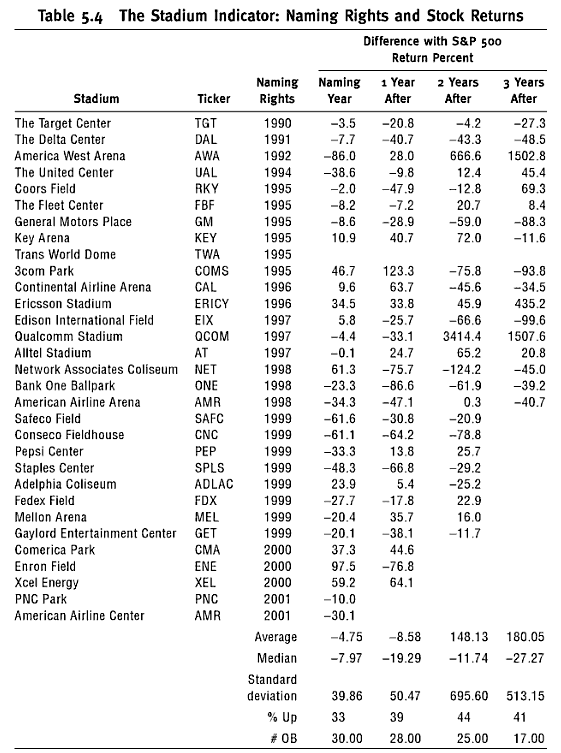 Aside from the stellar performance of Qualcomm, I think you can see a common theme showing up.
In similar fashion, Barclays Capital has decided that the building of skyscrapers provide a good indication of coming financial busts.  In the words of the Barclays' analysts:
Often the world's tallest buildings are simply the edifice of a broader skyscraper building boom, reflecting a widespread misallocation of capital and an impending economic correction
Touted examples include New York 1930; Chicago 1974; Kuala Lumpar 1997 and Dubai 2010.  Now they believe that we should pay attention to china:
Not only are their numbers growing, but they are getting taller.  Dubai took the record with the 2717 foot Burj Khalifa, so how long until China beats them?  Then they can really consider themselves "winning".