Guest Post from David A. Banister at TheMarketandTrendForecast.com
Over the past 5 calendar years we have seen GOLD either complete an intermediate cyclical top or bottom in each February.  My forecast was for February of 2013 to be no different and for Gold and Silver to make trough lows this month.  With that said, I did not expect the drop in GOLD to go much below $1,620 per ounce at worst, but in fact it has. Where does that leave us now on the technical patterns and crowd behavioral views?
First let's examine the last 5 years and you can see how I noted tops and bottoms in the chart below: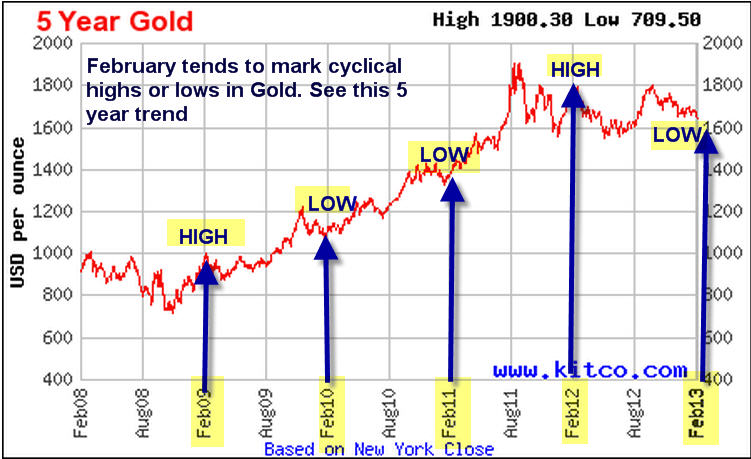 That brings us forward to today's $1,573 spot pricing and trying to determine where the next move will go. To help with that end, some of our work centers on Elliott Wave Theory, along with fundamentals and traditional technical patterns of course.  In this case, the recent action around Gold has been very difficult to ascertain, and I will be the first to admit as much.  With that said, one pattern we can surmise is a rare pattern Elliott termed the "Double Three" pattern.  Essentially you have two ABC type moves, and in the middle what is dubbed an "X" wave, which breaks up the ABC's on each end of the pattern.  For sure, if we add in traditional technical indicators along with sentiment, we can see very oversold levels coupled with the potential Double Three pattern and probably start getting long here for a trade back to the 1650's as possible:
Obviously this chart shows oversold readings in the lower right corner using the CCI indicator. That said we would like to see 1550 hold on a weekly closing basis to remain optimistic for a strong rebound.